My name is Kazuo Muto.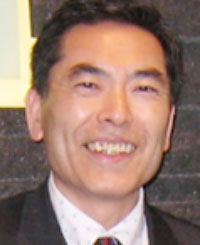 Muto Technical Research Institute Co., Ltd. was established on April 5, 2018 (Heisei 30) and its representative President and CEO is Kazuo Muto. We develop, design, manufacture, sell the new vibration, displacement, AE (Acoustic Emission; Acoustic Emission) sensor, and develop and consult on its application technology.
In addition, we are engaged in planning, trial production, development, design, manufacturing, sales of the manufacturing of molds and the like corresponding to the Iot generation, and development and consulting of its application technology.
The head office is located at 2695-18 Oshima, Midori ku, Sagamihara City, Kanagawa Prefecture. The nearest station is Hashimoto Station (south exit), and the nearest bus is Kanagawa Chuo Kotsu from the south exit of Hashimoto Station. 20 minutes by taxi.
Profile
Kazuo Muto, ph.D
Associate Professor
Doctor of Engineering Program in Mechanical and Biochemical Engineering
The Graduate School of Engineering
Department of Mechanical Engineering
The Hachinohe Institute of Technology (HIT)
Guest Associate Professor
Department of Mechanical Engineering
TOYOHASHI University of Technology
Fellow
Society of Automotive Engineering of Japan Inc.
One another my Brief career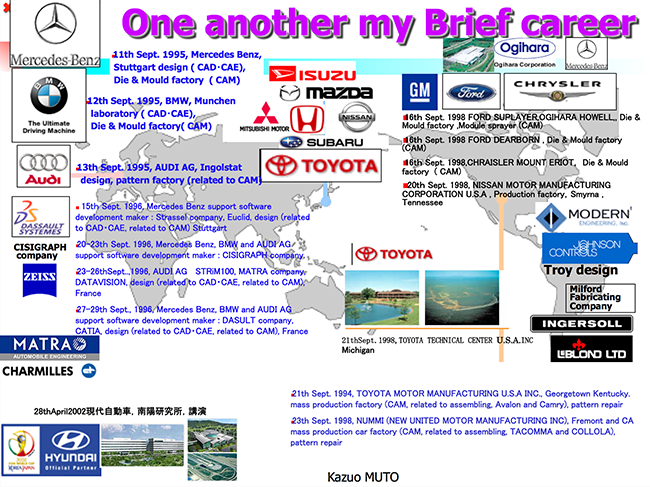 11th Sept. 1995, Mercedes Benz,Stuttgart design ( CAD・CAE), Die & Mould factory ( CAM)
12th Sept. 1995, BMW, Munchenlaboratory ( CAD・CAE),Die & Mould factory( CAM)
13th Sept. 1995, AUDI AG, Ingolstatdesign, pattern factory (related to CAM)
15th Sept. 1996, Mercedes Benz support software development maker : Strassel company, Euclid, design (related to CAD・CAE, related to CAM) Stuttgart
20-23th Sept. 1996, Mercedes Benz, BMW and AUDI AG support software development maker : CISIGRAPH company.
23-26thSept..,1996, AUDI AG STRiM100, MATRA company, DATAVISION, design (related to CAD・CAE, related to CAM), France
27-29th Sept., 1996, Mercedes Benz, BMW and AUDI AG support software development maker : DASULT company, CATIA, design (related to CAD・CAE, related to CAM), France
16th Sept. 1998 FORD SUPLAYER,OGIHARA HOWELL,, Die & Mould factory ,Module sprayer (CAM)
16th Sept. 1998 FORD DEARBORN , Die & Mould factory (CAM)
16th Sept. 1998,CHRAISLER MOUNT ERIOT, Die & Mould factory ( CAM)
20th Sept. 1998, NISSAN MOTOR MANUFACTURING CORPORATION U.S.A , Production factory,Smyrna , Tennessee
21th Sept. 1994, TOYOTA MOTOR MANUFACTURING U.S.A INC., Georgetown Kentucky. mass production factory (CAM, related to assembling, Avalon and Camry), pattern repair
23th Sept. 1998, NUMMI (NEW UNITED MOTOR MANUFACTURING INC), Fremont and CA mass production car factory (CAM, related to assembling, TACOMMA and COLLOLA), pattern repair